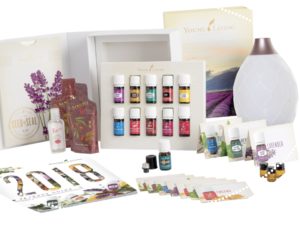 Introducing the Young Living Essential Oil Premium Starter Kit. As promised in my last post, I'll get into the details here about what the kit includes and why it's the best way to get started with integrating essential oils to uplift your life.
OK- so, this kit includes oils that have many uses and benefits. Some you may have heard of or even used before, and some might be new to you- like their specially formulated blends, for example, which are really quite lovely. The oils chosen for the kit all smell amazing and have many uses. So whether you're new to essential oils or a committed consumer and advocate, these oils are some of the common favorites for various treatments and blends. I'll be sharing essential oil blend recipes here on my blog and there is also a Facebook group for Young Living members, where people share recipes, essential oil victories, questions and support. Along with the pure essential oils, the kits includes a diffuser which runs for 4 hours and lights up- It's a great way to keep your house smelling fresh and tailor your home to suit your mood. This kit has everything needed to get started and gain serious benefits to your health and wellness.
The kit includes:
10 Premium Essential Oil Collection (5ml)
• Lavender • Peppermint • Lemon • Copiaba • DiGize • Frankinsence • Thieves • Purification • R.C  • Panaway
~Bonus Oil- Northern Lights Black spruce.
~Desert Mist Essential Oil Diffuser
Plus 2 X 2oz Ningxia Red superfood blend, thieves hand purifier, product guide, 10 Oil sample bottles and 1 Aroma glide fitment.
So there it is- everything you need to build your essential oil cabinet and integrate essential oils into your daily routine. For $200 you get a bunch of pure oils that smell amazing and a quality diffuser, plus all the benefits of signing up with Young Living, which means tons of perks and free oils when you order your products through them. I'd love to help you get started and support you along the way. Please get in touch through my contact page if your keen to amplify your health, wellness and beauty routine with the potent oils- it's a total game changer! Even if you just have questions- shoot me a message! I always love geeking out about all the oily goodness. I can also link you up to join an introduction to essential oils presentation that's happening in your area, Or if you'd like me to come over and lead an Oils and Wine info session with you and your friends, that's always a fun time. I can't say enough how much the benefit and success we've had with integrating oils to defend against germs, allergies, aches and pains, to help acne, wrinkles, cuts and bruises, or to just relax… I go to my oil collection for everything concern, everyday.
If you don't have your therapeutic grade oils, your life is harder than it needs to be! Let me help you. You deserve more?