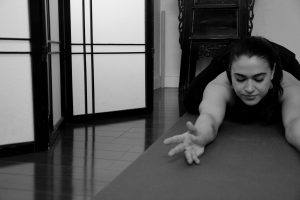 Whether to build strength and flexibility, heal an injury or gain more awareness and clarity in your life, yoga helps! I offer group classes and one-on-one yoga sessions, personalized to meet your needs. Your session will include postures, breathwork and meditation techniques.
Yoga is not only a physical practice; it is a healing way of conscious living to serve all aspects of our being. In the yogic model, there are 5 aspects of self and each affects our human experience: physical (Anamaya), breath/energy (Pranamaya), emotional (Manomaya), intellectual (Vijanamaya) and soul/bliss (Anandamaya).
Therapeutic yoga uses the yogic model to balance and address aspects of self as a unified whole by utilizing the 8 limbs of yoga:
Yama's ~ observation of behaviors and moral principles
Niyama's ~ cultivation of inner attitudes
Pranayama ~ life-force expansion
Asana ~ posture and physical expression
Pratyahara ~ awareness of the influences received through the senses/sense withdrawal
Dharana ~ concentration and continual refocusing
Dhyana ~ meditation
Samadhi ~ absorption of consciousness into the awakened heart/ Self-liberation
My yoga background is in both the Ashtanga and Yanumoja style, two very different approaches that complement each other beautifully. Ashtanga yoga is a physically rigorous vinyasa flow style practice that uses methodical sequencing to cleanse and heal. Yanumoja yoga offers a more insightful journey-work practice that enhances self-exploration in various postures. I also offer Yin/Restorative yoga, which is a slow and quiet practice using meditation to calm the mind during a long hold of each posture.
Whatever your reason for practicing yoga, I offer techniques and therapies that will enhance your life… body, mind and soul.
Click here for pricing, how to prepare and what to expect on your visit.