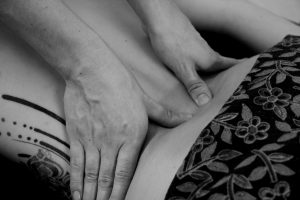 Do you ever wish someone else could just do your stretching and mobility exercises for you?  Well, have a Thai massage!
Traditional Thai Yoga Massage is a therapeutic form of bodywork that involves stretching, massage and acupressure to work deep into the tissues. It is beneficial for increasing flexibility and mobility, developing greater body awareness, releasing tension and promoting relaxation.
In the Thai model of healing, three aspects of health are treated: physical, energetic and citta (translated as heart/mind). Using intentional energy healing and rhythmic movements, Thai massage affects all aspects of your being. The currents of energy that flow throughout the body become balanced and redirected, releasing blockages, allowing healing and relaxation to occur.
I personalize each treatment to meet your needs, both physical and energetic.  As your muscle tissue lengthens and releases and your energy becomes clear and balanced, you will enjoy less pain and stiffness in your body and you will feel calm as stresses melt away. You will leave feeling renewed with a sense of deep peace and well-being.  Come restore your mind, body and spirit by treating yourself to a Thai massage.
Click here for pricing, how to prepare and what to expect on your visit.