Overview
In Body Being offers therapeutic services through massage: Ka Huna and Thai; instruction in various forms of yoga, and through soul empowerment coaching. As the principal practitioner I am honoured to offer the tools and support for your healing. I see great transformation in my clients and feel truly aligned to my souls work. Bodywork and Mindset Coaching can benefit everyone: whether for rehabilitation, learning to cope with chronic issues, or seeking to revitalize their well-being. Please read more about the facets of my practice: Ka Huna massage; Thai Yoga massage; Therapeutic Yoga.
Allow me to help you improve your overall health with the techniques I employ here at In Body Being!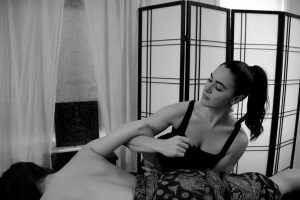 Treatment options and Pricing
60 minutes ~ $90
75 minutes ~ $110
What to expect and how to prepare
Ka Huna massage is performed directly on the massage table. Often the techniques will involve underbody work to create a weightless and flowing effect, much like being massaged by ocean waves. You can expect the room to be very warm to promote relaxation and comfort. A sarong will be used for draping, although, the long, flowing and rhythmic style of Ka Huna massage require the torso, arms and legs to be exposed.
Thai massage is performed on a comfortable mat on the floor. I will use my hands, elbows and feet to massage, stretch and maneuver your body into various positions. Some positions are similar to yoga postures, although you won't have to do anything – it's like having yoga done to you in combination with massage and acupressure! Please wear clothing that you are able to move freely in, i.e. yoga attire or lounging clothes.
Be prepared to feel nurtured, supported and relaxed in your healing process. With our shared intention for your healing, the effects are amplified. Matter follows the energy of intent. Get ready to release tension and holding patterns in your body!
For your own comfort, please refrain from eating a big meal 2 hours prior to your session. Your intention for healing and any questions or concerns can be openly discussed prior to your session.
 Download and fill out client forms before your session.