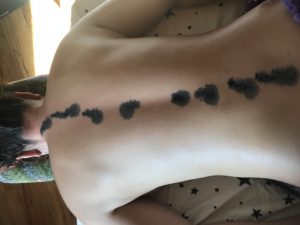 Dosing HARD on the self care lately to help battle the bug that's been floating around. Still not sick!! And seriously you guys- it's really been trying to get me. I'm winning though! Thanks to all my daily oil-up routines ? 
Knowing I needed a boost I had to get all of the oils all over me! To keep my immune system strong and muscles to stop seizing up- it was time for a Raindrop Technique ??‍♀️?
I tracked down a local practitioner here Nanaimo and she came to our house!!! She gave my partner and I both a treatment using 9 potent essential oils along the spine and vita-flex points on the feet. 
What an experience! So invigorating and relaxing. 
If you haven't experienced the potent affects of essential oils and noticed the difference in your life- we should talk. Like, whoa. Everyone needs to try this. Although I'm not trained in this specific style, I do use potent essential oils in my sessions to treat various conditions. They make a huge difference! But if you're keen to try this specific technique, I can refer you to someone in your area.
Spread some love today, Beauties.