I'm pretty sure that it's India's fault I'm suffering and feeling so much. I wish these intense emotions would just disappear already. The plan was to be positive and happy while I do my spiritual stuff, enough pain already, geeeze!
Maybe it's not only India's fault, could also be the new moon or the yoga that's bringing this all up. Hard to say exactly what's causing me to feel lost in a sea of difficult and unwanted emotion. There must be some reason, some thing on which I can blame this onset of uncomfortable feelings and relieve my broken ego from the responsibility of actually facing it- whatever this is. Ugh… It must be good though, right? It's got to come up so that it can get out. I wouldn't want all this to be contained inside of me forever to gradually and sneakily affect my life! So what is all this emotion about anyways? Nowhere better than India to embrace these waves and fluctuations of my deep mental and emotional patterns. Hello sorrow, loneliness, shame, inadequacy and guilt. Stay a while, let's have tea while I get to know you better and understand where you come from. Aversion and ignorance proves ineffective at dissipating the pain and only pushes it further inside. So, I'm "sitting in it".
India feels like the perfect place to reflect and sink into the process of transformation. It appears most of us yogi's here in Mysore are going through a similar process… i'll call it ego death. Breaking down to breakthrough. Yep, the painful affects of awakening. At least I'm not alone- my misery likes company! This place has a way of bringing up all of the sh*t that we thought was better to keep down. When we "sit in it", we can watch it transform, therefore I'm ok with wanting company for this process, it's ultimately for our own good anyways. If it weren't, I would never wish this upon another, and wouldn't be embracing this darkness myself, either. We can't hide from the struggle and hardships, expecting ourselves to blossom. We are lotus flowers, we grow into beautiful flowers from the murky mud.
Perhaps it's the saturation of sacredness in the air here, or the constant stares from the locals. Whatever the reason, it's tearing apart my decidedly comfortable identification of self. The process is difficult, beautiful and exactly right. I now have no idea who I really am, besides being a lotus flower, of course.
I'm realizing that travelling has a way of making me do my personal 'work' in a whole new way. I always welcomed growth and transformation in my life. Always… when I had time anyway. So now, travelling is allowing me more time for awareness and growth, (which comes with all these sticky yucky feelings-yay!), and also allows me much more space to experience myself, (within that puddle of sticky yucky-ness). Travelling also showed to me the impossibility of escaping myself. No matter where I go in the world, there I am. So yup,  I'm sitting in it, all of the sticky yucky-ness.
The good news is that I love myself and am very dedicated to building a healthy relationship with my Self. So all of that pain and suffering I mentioned, it's actually not that bad since I know how to support myself and how to reach out when I need help. These sticky feelings have to be experienced. It comes along with awareness and insights, it's really a blessing. A powerful tool for transformation when I allow it to teach and shape me. It ignites the choice to live a life that's on purpose, with purpose.
As humans we will always experience pain, but suffering is a choice. I like to think of the suffering as that annoying teacher whom you can't stand but whom you know is right and is actually there to help.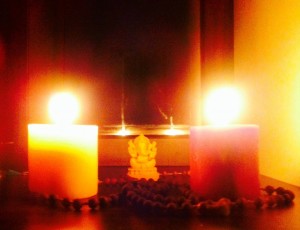 After all, we wouldn't know life's pleasures without truly knowing the pain. Slowly it becomes less important whether the feelings are painful or full of pleasure and they become less extreme. When we listen, the waves of emotion calm down and the water becomes still. There will always be darkness and light but how we experience that contrast will shift and soften as we move along this spiritual journey of self, towards Self.